The Diamond Residences provide a unique sense of exclusivity right on the water's edge on their private beach and surrounded behind by the Elounda 9-hole golf course, as well as all the benefits and outstanding personal services of the leading hotel in Greece, the amenities, security, maintenance and generally, peace-of-mind and hassle-free ownership.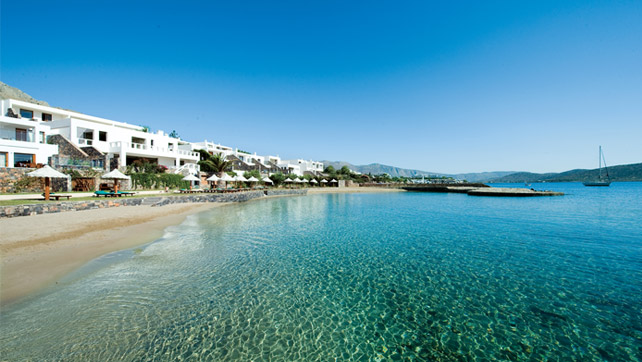 The ownership structure has been designed to be simple and most tax-efficient; the residences are offered under 60-year renewable notarial leaseholds, with option to convert to freehold title as soon as the Greek law allows for it.

Exterior construction work on all the Diamond Residences project has been completed as of Spring 2011, awaiting interiors finishing for those units not sold yet and in use by their owners. The residences are offered fully furnished, equipped and decorated in total luxury, and are offered in move-in condition, with all the utilities and other infrastructure fully functional.  Buyers can choose from two interior décor alternatives, Contemporary and Traditional.  Offered in 2, and up to 5 or 6 bedroom layouts, the units include outdoor and in some cases also indoor pools, internal home gym/spa, staff quarters, storage/laundry rooms, etc. - even the free use of an electric club car is included for each residence. 

All the residences benefit from full hotel maintenance and security, 6-star hotel services and amenities, optional maid services/housekeeping, in addition to all the privileges and rights and special pricing for certain services, all included in the Diamond Residences Club.  And included in the amenities are the award-winning Six-Senses spa, full watersports club, scuba, sailing and yachts, private yacht piers, the golf course, tennis courts, full indoor gym, Children's daycare center and a number of restaurants and bars, all within the Elounda SA resorts, at special discounted rates.

Also available is the Diamond Residences Rental Program, whereby owners can give their residence for hotel operation, sharing the revenue generated.  This is an important value enhancer, as income generation, although not necessarily desired by all owners, is a significant value determinant for any property. 

… and all this for a hassle-free fully serviced vacation home in the most privileged and exclusive waterfront location in Greece!